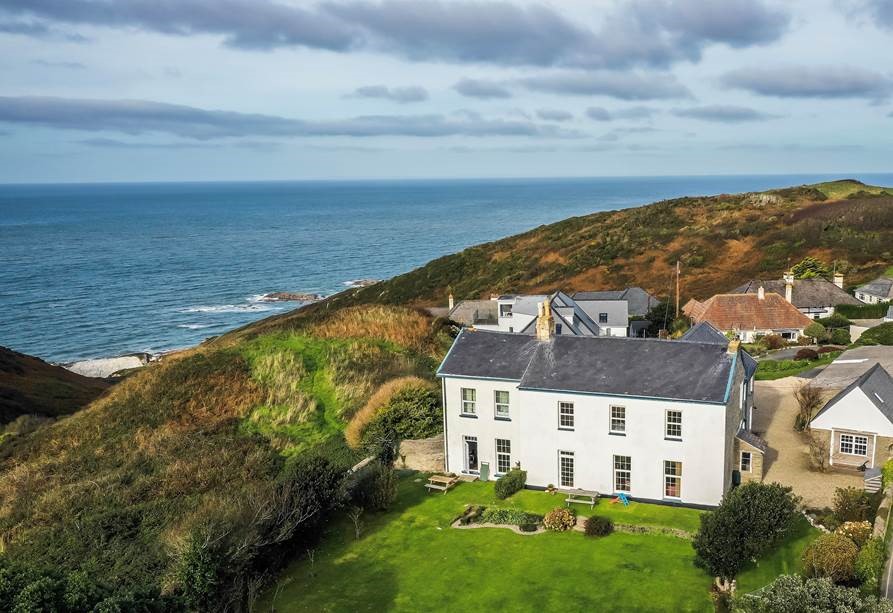 The Old Vicarage is a Georgian house set in a walled garden in the charming coastal village of Mortehoe, North Devon. It is surrounded by exceptionally beautiful country and rugged coastline, and is moments from the huge beach and some of Devon's best surfing at Woolcacombe.
The property itself is divided in to three – the Old Vicarage, and two adjoining cottages, Mailscot and Wykeham.
The Old Vicarage sleeps up to ten and each cottage four. They can be rented separately or together.
There is a beautiful garden, to which all properties have access. It is big enough for croquet, badminton and French cricket. There is a ping pong table in the garage…
This is what others are saying about the Old Vicarage
Absolutely great. Good location. Very clean. Well equipped. Quiet.
Very cosy with the log burner. Maybe could do with another armchair downstairs, but this is only a very minor issue.
Overall the best cottage we have rented ever.
Absolutely perfect …
Left on Sep 27, 2017 for a stay in Sep 2017
A family of 4, we stayed in Wykeham Cottage for just over a week in early September. The cottage was beautifully decorated, with an interior that looked straight out of English country homes magazine. Very comfortable indeed. Our sons both enjoy running around, so having the large shared lawn area at the front of the cottage was perfect to burn off excess energy. There was a large garage with an assortment of golf clubs and a table tennis table available also. There are a number of lovely beaches, rock pools and an endless number of walks to do along the coast here. Our sons loved Rockham Beach. The rock pools provided endless enjoyment for us all. .....Would return to a Wykeham Cottage at the Old Vicarage in a heartbeat. Loved our stay!
Left on Sep 16, 2017 for a stay in Sep 2017
Lovely place to stay peaceful, relaxing and near to mortehoe village and the cottage was lovely and a cream tea was waiting for us when we got there,
Perfect lots to see and do ideal for walking.
Old Vicarage Left on Sep 8, 2017 for a stay in Sep 2017