Beach Holidays in North Devon
Mortehoe is the perfect place for a beach holiday.  It is just moments away from the UKs best beach, Woolacombe Beach (and its small coves) and also to Rockham beach in the opposite direction.
There is  heaps to do from surfing, rock pools and general beach tomfoolery.
Apres beach activity is to be found in Woolacombe and  back up the hill in Mortehoe
Below are some  tips to help you get the most from all that the beaches around Mortehoe offer.

Woolacombe Beach
Woolacombe Beach lies between Morte Point and Baggy Point. This three-mile long stretch of golden sand is renowned for it's cleanliness, water quality and facilities.
It is an award winning beach! Voted Number 1 in the UK on Tripadvisor (February 2016) for the second year running and holds the 'England for Excellence Gold Award' for best family resort and was voted the Best British Beach in the Mail On Sunday. Life guards ensure safe family swimming during the summer and surfers come from all over the country to enjoy the great waves and clean water.
The north end of the beach tends to be most crowded where there are plenty of cafes, surf board hire shops etc and even a merry go round (summer only). There are also lockable beach huts for rent to save you bringing all your kit every day.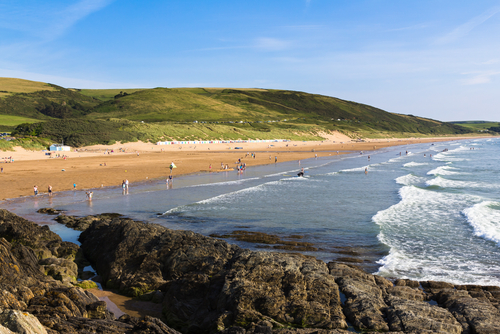 Evening Curry at Barricane Beach – Not to be missed
In the last few years Barricane Beach has become the evening destination for those in the know in Woolacombe. The ice cream hut converts itself into a Sri Lankan curry hut for a few hours each evening.  There's only one choice and it's a delicious one. If you do nothing else during your stay in the area then do this. Bring your own drink and find a spot to sit on the beautiful small beach enclosed by cliffs  and watch the sun go down.
Insider tip: get there early (5.30ish) to avoid the queue and to get your pick of idyllic spots on the beach.
Barricane beach has a ramp so it's pram friendly as well.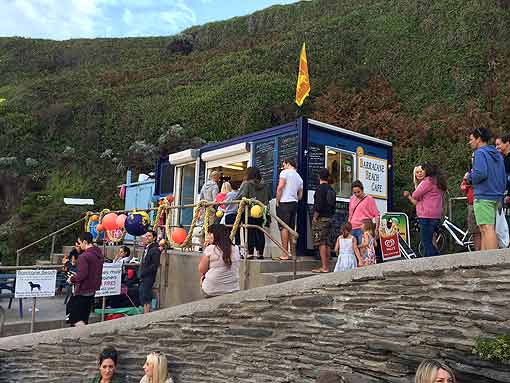 Puttsborough and mid beach
If you want to get way from the more crowds at the Woolacome end of the beach then head towards the middle of the beach or even to Puttsborough. Puttsborough, right at the south end of the beach, has a vibe all of its own.  It's generally quiet and easy and feels a little wilder.  There are no life guards here, not many facilities but there is a good cafe with great views.
If you can't make it all the way to Putts then try to get midway along the beach where you will find that you have the whole place to yourself.  The best approach, particularly if you have a bit to carry is via the sand dunes.  You can either drive and park above or it's a pleasant sheltered walk just behind the dunes.
Dogs also welcome along this part of the beach even in Summer!
There are no life guards or, if you haven't too much to carry get yourself all the way to Puttsborough.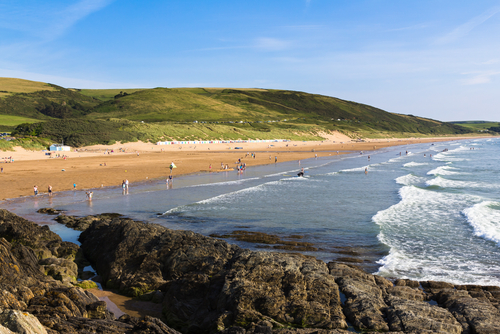 Rockham Beach – Mortehoe
Rockham beach is a short 10 minute walk from the Old Vicarage.  This is the beach to go to get away from the hub bub of Woolacombe beach.
With no local amenities it tends to attract a quieter crowd happy to relax against the rocks, net in the rock pools and make barbecues out of stones.
The dog police are a bit more relaxed here too!
The beach itself is shingly and has steep steps to get down to so take care and eat or your picnic or else you'll have to carry it back up!
Just note, the steps down to the actual beach are steep so it may not be for everyone and access is by foot only.